Rare Diseases
---
"There are approximately 7,000 rare diseases affecting an estimated 30 million people in the United States."

– Janet Woodcock, FDA
The Trio Health and NORD Collaboration
---
The National Organization for Rare Disorders (NORD), the country's leading voice for the rare disease patient community, is collaborating with Trio Health to leverage its innovative platform to monitor real-world patients. This unique insight will allow physicians, drug manufacturers, regulatory agencies and advocacy organizations to better serve and improve patient outcomes.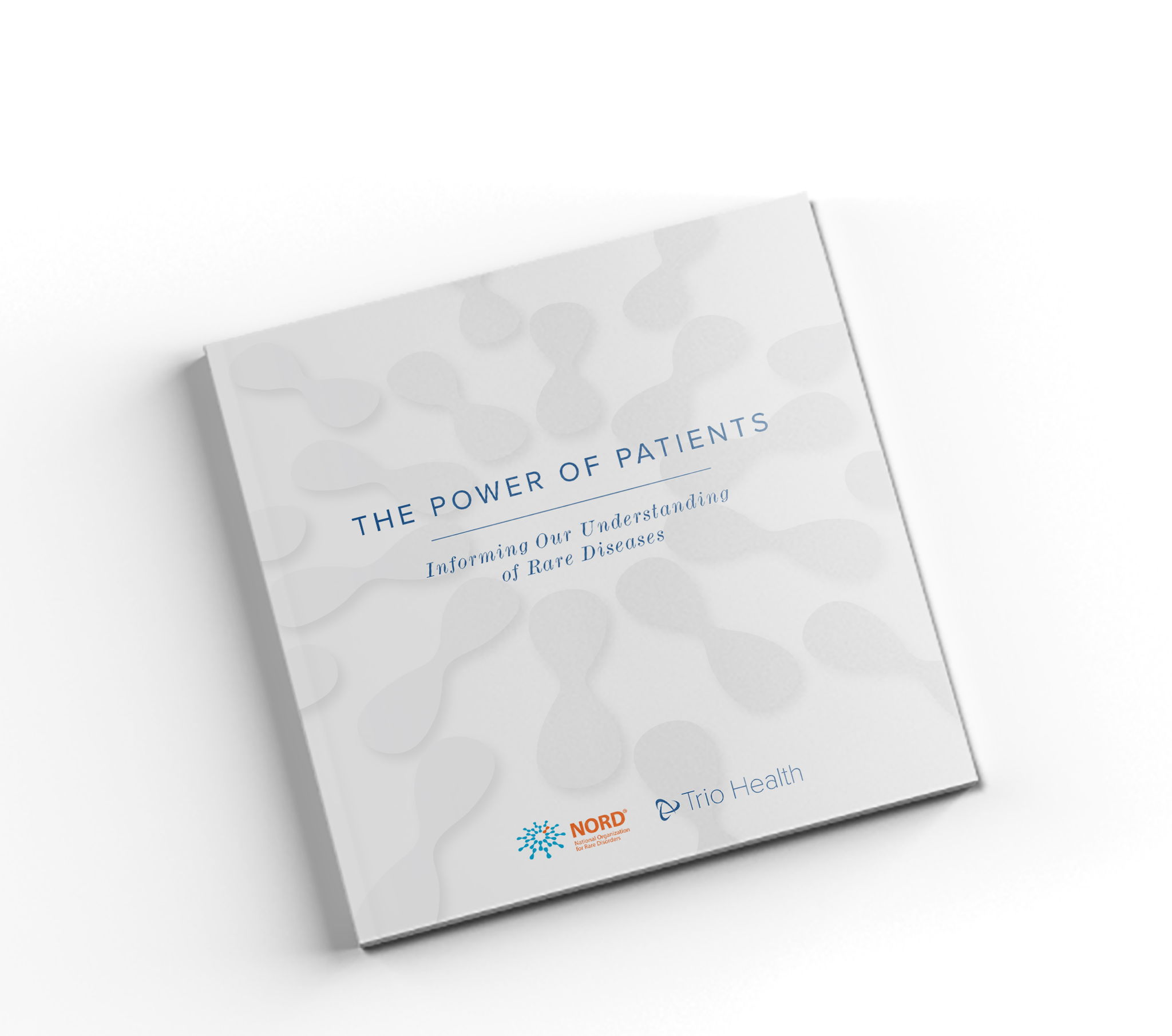 "The Power of Patients

Informing Our Understanding of Rare Diseases"
---
This important collection of real-world insights is informed by scientifically validated, patient-reported, patient-experience data collected by NORD's registry community. It was developed in partnership with six patient organizations and features a foreword by Janet Woodcock, MD Director of FDA's Center for Drug Evaluations and Research.
The Power of Patients highlights the critical importance of patient participation in registries and how essential natural history data for rare diseases is to the research and development of new treatments. With 90% of the more than 7,000 rare diseases still without an FDA-approved treatment, that is progress vital to the lives of the millions of Americans affected by rare diseases.
To read the press release, please click here.
If you are interested in downloading a copy of this book, please click here.
Quality of Life and Demographics of Patients with Immune Thrombocytopenia (ITP); Data from the Platelet Disorder Support Association (PDSA) Patient Registry
Caroline Kruse, Alexandra Kruse, Nancy Potthast, Vanessa Boulanger, Allison Seebald, Suzanne Rossov and Kelsey Milligan
Poster Presented at: European Hematology Association (EHA)
Conference dates: June 13, 2019 - June 16, 2019
---
Misdiagnosis of Desmoid Tumors; Insight from The Desmoid Tumor Research Foundation (DTRF) Natural History Study
Kelly Mercier, Lynne Hernandez, Vanessa Boulanger, Allison Seebald, Suzanne Rossov, Kelsey Milligan
Poster Presented at: ASCO
Conference dates: May 31, 2019 - June 04, 2019
---
Clinical Practice Experience with Tenofovir Alafenamide (TAF) for Treatment of Hepatitis B in the US
Michael Curry, Ho Bae, Douglas Dieterich, Victor Ankoma-Sey, K. Rajender Reddy, Calvin Pan, Hie-Won Hann, Myron Tong, W. Ray Kim, Paul Kwo, Lynn Frazier, Scott Milligan, Janna Radtchenko, and Nezam Afdhal
Poster Presented at: International Society for Pharmacoeconomics and Outcomes Research (ISPOR)
Conference dates: May 18, 2019 - May 22, 2019
---
Understanding Disease and Burden in Syngap1-Related Non-Syndromic Intellectual Disability (NSID) Using a Patient Registry Database
Weldon M, Holder J, Rumbaugh G, Smith-Hicks C, Boulanger V, Seebald A, Rossov S, Milligan K, and Radtchenko J.
Poster Presented at: International Society for Pharmacoeconomics and Outcomes Research (ISPOR)
Conference dates: May 18, 2019 - May 22, 2019
---
Understanding Real-World Treatment Patterns and Quality of Life in Patients with Pemphigus and Pemphigoid Using a Patient Registry Database
Yale ML, Boulanger V, Seebald A, Rossov S, Milligan K, and Radtchenko J
Poster Presented at: International Society for Pharmacoeconomics and Outcomes Research (ISPOR)
Conference dates: May 18, 2019 - May 22, 2019
---
The Use of a Patient Registry to Better Inform Healthcare Decision Makers and Improve Clinical Outcomes for Patients with Phenylketonuria (PKU)
Bodamer O, Levy H, Blakely E, Brown C, Feldman H, Connolly R, and Moseley K, Boulanger V, Seebald A, Rossov S, Milligan K, Radtchenko J
Poster Presented at: International Society for Pharmacoeconomics and Outcomes Research (ISPOR)
Conference dates: May 18, 2019 - May 22, 2019
---
The Use of Patient Reported Registry Data to Improve Health Outcomes for Patients with Opsoclonus Myoclonus Syndrome (OMS)
Michaelis M, Khoury-Dennis C, Boulanger V, Seebald A, Rossov S, Milligan K, and Radtchenko J
Poster Presented at: International Society for Pharmacoeconomics and Outcomes Research (ISPOR)
Conference dates: May 18, 2019 - May 22, 2019
---
The PKU Patient Registry: Understanding The Natural History of PKU
Olaf Bodamer, Harvey Levy, Eileen Blakely, Christine Brown, Hilary Feldman, Rhonda Connolly, Kathryn Moseley, Vanessa Boulanger, Allison Seebald, Suzanne Rossov, Kelsey Milligan, Janna Radtchenko
Poster Presented at: Society for Inherited Metabolic Disorders (SIMD)
Conference dates: April 06, 2019 - April 09, 2019
---
Weight Gain During Treatment Among 3,468 Treatment-Experienced Adults with HIV
Grace A McComsey, Joseph J Eron, Steven Santiago, Karam Mounzer, Graeme Moyle, Thanes Vanig, Paul E Sax, Keri N Althoff, Scott Milligan, Richard, Haubrich and Richard A Elion
Oral Presented at: Conference on Retroviruses and Opportunistic Infections (CROI)
Conference dates: March 04, 2019 - March 07, 2019
---
Understanding Demographics and Diagnosis in Syngap1-related Non-Syndromic Intellectual Disability (NSID) Patients Using a Patient Registry Database
Weldon M, Holder J, Rumbaugh G, Smith-Hicks C, Boulanger V, Seebald A, Rossov K and Milligan K
Poster Presented at: National Institute of Health (NIH)
Conference dates: February 28, 2019 - February 28, 2019
---
The Opsoclonus Myoclonus Syndrome (OMS) Registry: A Vehicle to Better Understand the Natural History and Experience of OMS Patients
Mike Michaelis, Christy Khoury-Dennis, Vanessa Boulanger, Allison Seebald, Suzanne Rossov, Scott Milligan and Janna Radtchenko
Poster Presented at: National Organization for Rare Disorders (NORD)
Conference dates: October 15, 2018 - October 16, 2018
---
The Pemphigus-Pemphigoid Registry: Real-World Diagnostic and Treatment Patterns
Marc L. Yale, Vanessa Boulanger, Allison Seebald, Suzanne Rossov, Scott Milligan and Janna Radtchenko
Poster Presented at: National Organization for Rare Disorders (NORD)
Conference dates: October 15, 2018 - October 16, 2018
---
The Pemphigus-Pemphigoid Registry: First Report of Patient Quality of Life Measures
Marc L. Yale, Vanessa Boulanger, Allison Seebald, Suzanne Rossov, Scott Milligan and Janna Radtchenko
Poster Presented at: National Organization for Rare Disorders (NORD)
Conference dates: October 15, 2018 - October 16, 2018
---
The Pemphigus-Pemphigoid Registry: A Platform to Improve Understanding and Advance Care
Marc L. Yale, Vanessa Boulanger, Allison Seebald, Suzanne Rossov, Scott Milligan and Janna Radtchenko
Poster Presented at: National Organization for Rare Disorders (NORD)
Conference dates: October 15, 2018 - October 16, 2018
---
The PKU Patient Registry: Evaluating Treatment Paradigms of Patients with PKU
Eileen Blakely, Christine Brown, Olaf Bodamer, Harvey Levy, Hilary Feldman, Rhonda Connelly, Kathryn Moseley, Vanessa Boulanger, Allison Seebald, Suzanne Rossov, Scott Milligan and Janna Radtchenko
Poster Presented at: National Organization for Rare Disorders (NORD)
Conference dates: October 15, 2018 - October 16, 2018
---
The PKU Patient Registry: Understanding Diagnosis and Medical History of Patients with PKU
Eileen Blakely, Christine Brown, Olaf Bodamer, Harvey Levy, Hilary Feldman, Rhonda Connelly, Kathryn Moseley, Vanessa Boulanger, Allison Seebald, Suzanne Rossov, Scott Milligan and Janna Radtchenko
Poster Presented at: National Organization for Rare Disorders (NORD)
Conference dates: October 15, 2018 - October 16, 2018
---
The PKU Patient Registry: A Step for Better Disease Awareness and Improved Patient Outcomes
Eileen Blakely, Christine Brown, Olaf Bodamer, Harvey Levy, Hilary Feldman, Rhonda Connelly, Kathryn Moseley, Vanessa Boulanger, Allison Seebald, Suzanne Rossov, Scott Milligan and Janna Radtchenko
Poster Presented at: National Organization for Rare Disorders (NORD)
Conference dates: October 15, 2018 - October 16, 2018
---
Symptoms and Diagnosis of Opsoclonus Myoclonus Syndrome (OMS): Early Data from the OMS Registry
Mike Michaelis, Christy Khoury-Dennis, Vanessa Boulanger, Allison Seebald, Suzanne Rossov, Scott Milligan and Janna Radtchenko
Poster Presented at: National Organization for Rare Disorders (NORD)
Conference dates: October 15, 2018 - October 16, 2018
---
Treatment Utilization by Patients with Opsoclonus Myoclonus Syndrome (OMS): Insights from the OMS Registry
Mike Michaelis, Christy Khoury-Dennis, Vanessa Boulanger, Allison Seebald, Suzanne Rossov, Scott Milligan and Janna Radtchenko
Poster Presented at: National Organization for Rare Disorders (NORD)
Conference dates: October 15, 2018 - October 16, 2018
---
NORD RareCare® Assistance Programs: Helping the Rare Disease Community Access Diagnostics and Care
Jill Pollander, Pamela Gavin and Jeremy Broestl
Poster Presented at: National Organization for Rare Disorders (NORD)
Conference dates: October 15, 2018 - October 16, 2018
---