Hepatitis C | NASH
---
​FOR EACH DISEASE, TRIO DEVELOPS A CUSTOM SOLUTION THAT CAPTURES PATIENT LEVEL DATA THROUGHOUT THE PATIENT JOURNEY, ALL IN REAL-TIME. TRIO'S COVERAGE INCLUDES APPROVED DRUG REGIMENS, PHYSICIANS AND PHARMACIES WITHOUT BIAS.
Hepatitis C - The Silent Epidemic
---
Hepatitis C (HCV), often labeled a "silent epidemic," is a serious blood-borne disease, affecting almost 110 million people worldwide. The major modes of transmission include blood transfusion, surgical or invasive procedures, and intravenous (IV) drug use.
HCV is largely asymptomatic for many years; people often do not know they are infected until the disease is in an advanced state.
It is a silent killer that lurks under the radar.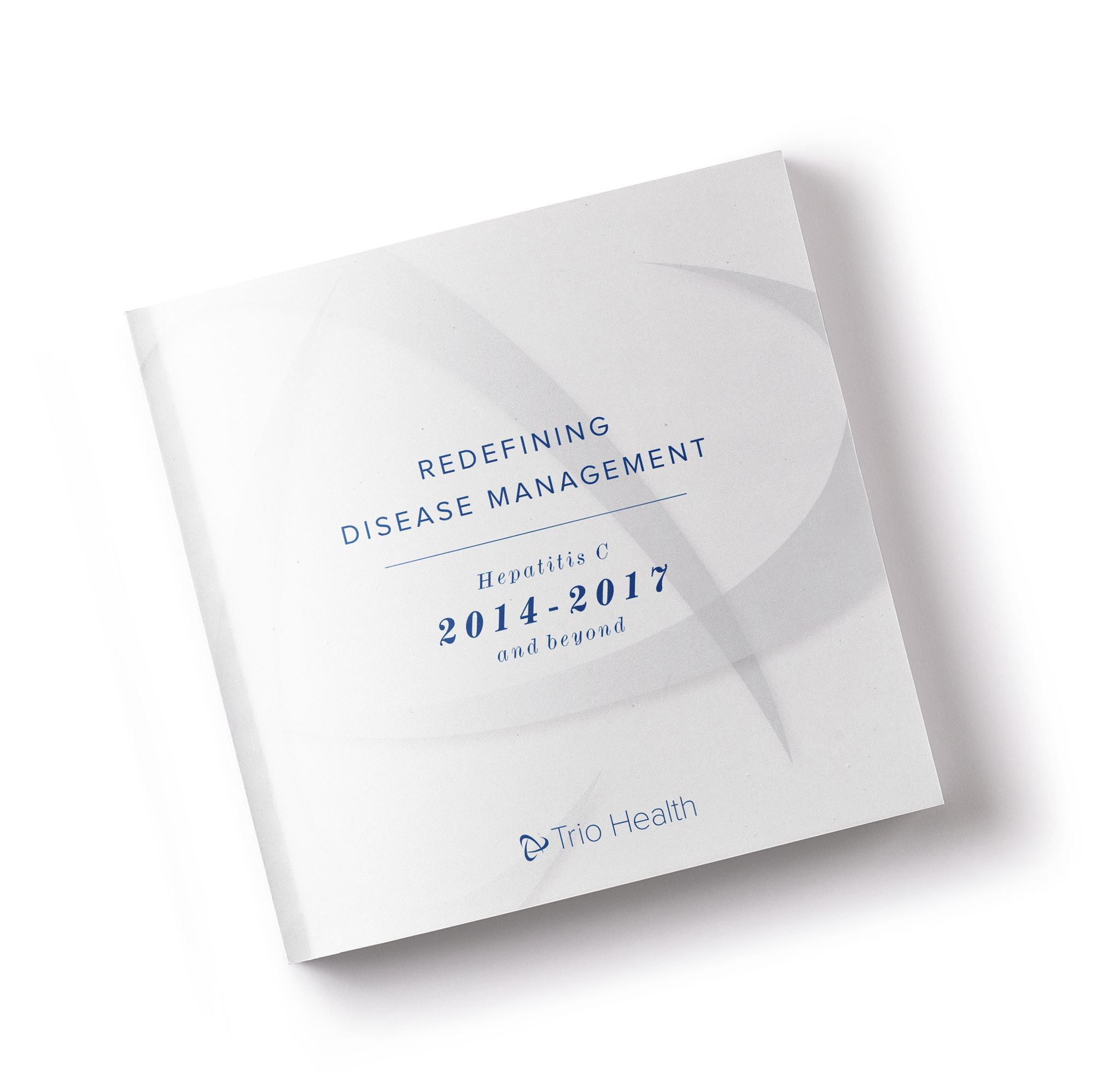 "Redefining Disease Management
Hepatitis C – 2014-2017 and Beyond"
---
This important collection of real-world insights is informed by scientifically validated, patient-reported, patient-experience data collected by Trio's MDX platform.

If you are interested in downloading a copy of this book, please click here.

---
HCV Scientific Steering Committee
---
Trio's unbiased insights have established a high level of integrity based on the Scientific Steering Committee expertise, diversity, and credibility to deliver transparent insight on the disease.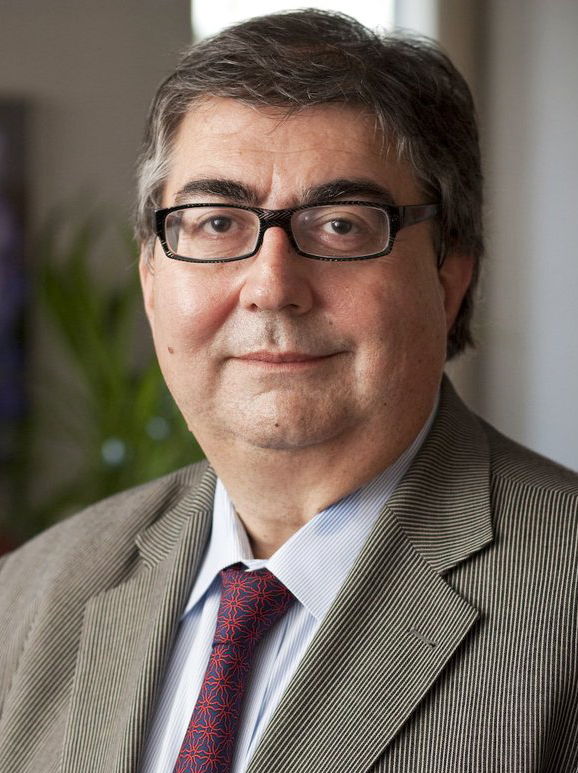 Nezam Afdhal, MD
Chairman – HCV Steering Committee
Professor of Medicine, Harvard Medical School
Beth Israel Deaconess Hospital (BIDMC) Boston, MA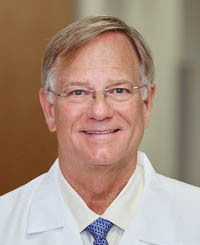 Bruce Bacon, MD
James F. King, MD Endowed Chair in Gastroenterology at Saint Louis University (SLU), St. Louis, MO
Former President of the AASLD in 2004
Chair of the AASLD Foundation since 2013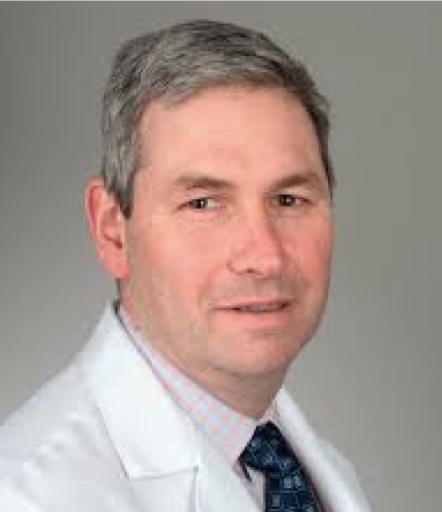 Michael Curry, MD
Section Chief, Director of Liver Transplant, BIDMC, Boston MA
Associate Professor, Medicine, Harvard Medical School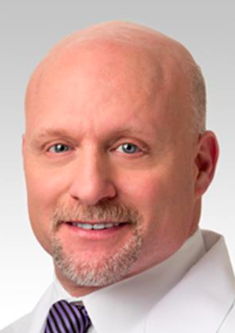 Steven Flamm, MD
Professor of Medicine & Surgery, Division of Hepatology at Northwestern University, Chicago, IL
Chief of Transplantation Hepatology
Trustee of the AASLD Foundation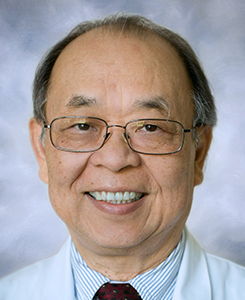 Naoky Tsai, MD
Private Practice – Honolulu, HI
Professor of Medicine – University of Hawaii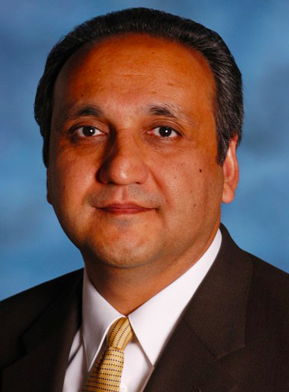 Zobair Younossi, MD, MPH
Chairman, Department of Medicine, Inova Fairfax Hospital, Fairfax, VA
Professor of Medicine, Virginia Commonwealth University
Chair of the Medical Advisory Committee of the National Capital Chapter of the ALF
COMMITTEE MEMBER ACCOMPLISHMENTS
---
Publication
Journals
Annals of Internal Medicine

APS - American Physiological Society

Clinical Gastroenterology

Journal of Hepatology

World Journal of Gastroenterology

The New England Journal of Medicine

Liver International

Associations
and Foundations
AASLD Foundation

American Board of Internal Medicine

ACG

ACP

AGA

American Liver Foundation

Hepatitis B Foundation

EASL

NIH

Advisory Board
Affiliations
AbbVie

AEVI

Angion

Bristol-Myers Squibb

Gilead

Ligand

Merck

Salix

Spring Bank



Publications & Abstracts
---
2022
Global Real-World Evidence of Sofosbuvir/Velpatasvir as a Highly Effective Treatment and Elimination Tool in People with Hepatitis C Infection Experiencing Mental Health Disorders
Heiner Wedemeyer, Vito Di Marco, Montserrat Garcia-Retortillo, Elisabetta Teti, Chris Fraser, Luis Enrique Morano Amado, Sergio Rodriguez-Tajes, Silvia Acosta-Lopez, Joss O'Loan, Michele Milella, Maria Buti, Maria Fernanda Guerra-Veloz, Alnoor Ramji, Mary Fenech, Alexandra Martins, Sergio M. Borgia, Kim Vanstraelen, Michael Mertens, Candido Hernandez, Ianna Ntalla, Heribert Ramroth, and Scott Milligan
Manuscript Published in: Viruses
Date of Publication: November 11, 2022
---
Changing HCV Patient Profiles: Insights From a Large Multinational Real-World Sofosbuvir/Velpatasvir (SOF/VEL) Dataset
A Mangia, S Fagiuoli, V Di Marco, S Shafran, M Khalili, S Milligan, G Papatheodoridis, D Ouzan, S Rosati, A Ramji, E Teti, M Garcia-Retortillo, F Andres Perez Hernandez, A Wong, C Fraser, S Rodriguez-Tajes, E Jimenez Mutiloa, LE Morano Amado, J O'Loan, F Campanale, G Macedo, M Milella, C Brixko, M Buti, MF Guerra Veloz, R Ranieri, S Borgia, A Bascia, CM Fernandez Rodriguez, B Conway, V de Ledinghen, M Fenech, P Ryan, I Maida, A Martins, S Scherbakovsky, I Ntalla, C Hernandez, K Vanstraelen, and J Turnes
The International Liver Congress 2022; 2022 June 22-26
Poster Presented at: The European Association for the Study of the Liver (EASL)
Conference dates: June 22, 2022 - June 26, 2022
---
Fibrosis-4 Index Can Independently Predict Major Adverse Cardiovascular Events in Nonalcoholic Fatty Liver Disease
Joana Vieira Barbosa, MD, MSc, Scott Milligan, PhD, Andrew Frick, MSc, Jeremy Broestl, BSc, Zobair Younossi, MD, MPH, Nezam H. Afdhal, MD, and Michelle Lai, MD, MPH
DOI: 10.14309/ajg.0000000000001606
Manuscript Published in: The American Journal of GASTROENTEROLOGY
Date of Publication: January 18, 2022
---
Fibrosis-4 Index as an Independent Predictor of Mortality and Liver-Related Outcomes in NAFLD
Joana Vieira Barbosa, Scott Milligan, Andrew Frick, Jeremy Broestl, Zobair Younossi, Nezam H. Afdhal, and Michelle Lai
Manuscript Published in: Hepatology Communications
Date of Publication: December 30, 2021
---
The Impact of Race on NAFLD Outcomes in US Clinical Practice
Scott B. Minchenberg, Joana Vieira Barbosa, Scott Milligan, Andrew Frick, Nezam H. Afdhal, and Michelle Lai
Poster Presented at: American Association for the Study of Liver Disease (AASLD) – The Liver Meeting 2021
Conference dates: November 12, 2021 - November 15, 2021
---
Multinational Evaluation of Comedication and Drug-drug Interactions in Hepatitis C Patients Treated with Pangenotypic Direct-acting Antivirals
Stefano Fagiouli, Scott Milligan, Juan Turnés, Alessandra Mangia, Andreas Hintz, Nicole Wick, Antoni Sicras, Luca DegliEsposti, Frank Tacke, Ramón Morillo, GemaAlvarez Nieto, GeroNiess, Stacey Scherbakovsky, MarinelaMéndez, Hsin-Jung Lin, Kim Vanstraelen, CandidoHernandez, and Tim Umland
Poster Presented at: Global Hepatitis Summit (GHS)
Conference dates: June 18, 2021 - June 20, 2021
---
Is the Age of Hepatitis C Patients Influencing Rapid Direct-acting Antiviral Treatment Start? Results from a Large Multinational Real-world Dataset
Juan Turnés, Alessandra Mangia, Mandana Khalili, Scott Milligan, Stefano Fagiuoli, Vito Di Marco, George Papatheodoridis, Stanislas Pol, Silvia Rosati, AlnoorRamji, Elisabetta Teti, Lisa Barrett, Montserrat Garcia-Retortillo, Francisco Pérez Hernández, Alexander Wong, Chris Fraser, Sergio Rodriguez-Tajes, Elena Jiménez Mutilo, Luis Morano, Joss O'Loan, Francesca Campanale, Guilherme Macedo, Michele Milella, Christian Brixko, Maria Buti, Maria Fernanda Guerra Veloz, Roberto Ranieri, Sergio Borgia, Annalisa Bascià, ConradoM Fernandez-Rodriguez, Brian Conway, Victor De Lédinghen, Mary Fenech, Pablo Ryan, Ivana Maida, Alexandra Martins, Ioanna Ntalla, Hsin-Jung Lin, Candido Hernandez, Kim Vanstraelen, Stacey Scherbakovsky, and Stephen D Shafran
Global Hepatitis Summit 2020/2021; 2021 June 18-20
Poster Presented at: Global Hepatitis Summit (GHS)
Conference dates: June 18, 2021 - June 20, 2021
---
Is the Gender of Hepatitis C Patients Influencing Rapid Direct-acting Antiviral Treatment Start? Results from a Large Multinational Real-world Dataset
Alessandra Mangia, Silvia Rosati, Lisa Barrett, ElisabettaTeti, Montserrat Garcia-Retortillo, Elena Jiménez Mutilo, Francesca Campanale, Maria Buti, Maria Fernanda Guerra Veloz, Annalisa Bascià, Mary Fenech, Ivana Maida, Alexandra Martins, Juan Turnés, Scott Milligan, Stefano Fagiuoli, Vito Di Marco, Stephen D Shafran, George Papatheodoridis, Denis Ouzan, AlnoorRamji, Francisco Pérez Hernández, Alexander Wong, Chris Fraser, Sergio Rodriguez-Tajes, Luis Morano, Joss O'Loan, GuilhermeMacedo, Michele Milella, Christian Brixko, Roberto Ranieri, Sergio Borgia, ConradoM Fernandez-Rodriguez, Brian Conway, Victor De Lédinghen, Pablo Ryan, Stacey Scherbakovsky, Hsin-Jung Lin, Kim Vanstraelen, IoannaNtalla, Candido Hernandez, and Mandana Khalili
Global Hepatitis Summit 2020/2021; 2021 June 18-20
Poster Presented at: Global Hepatitis Summit (GHS)
Conference dates: June 18, 2021 - June 20, 2021
---
Eficacia de sofosbuvir/velpatasvir (SOF/VEL) en pacientes con infección crónica por VHC y trastornos psiquiátricos: resultados en práctica clínica real en 6 países
García-Retortillo M, Milligan S, Barrett L, Teti E, Wedemeyer H, Fraser C, Morano L, Rodríguez-Tajes S, Acosta-López S, O'Loan J, Milella M, Buti M, Guerra Veloz MF, Ramji A, Fernández-Rodríguez CM, Martins Figueiredo L, Fenech M, Jiménez Mutiloa E, Macedo G, Maida I, Ryan P, Campanale F, Bascia A, Conway B, Ranieri R, Borgia S, De Lédinghen V, Mangia A, Mertens M, Vanstraelen K, Ntalla I, Hernández-López C, and Di Marco V
Gastroenterol Hepatol. 2021; 44 Supl Congr 2: 32-118: Abstract #64
Poster Presented at: Spanish Association for the Study of the Liver (AEEH)
Conference dates: June 14, 2021 - June 16, 2021
---
Prevalence of Drug-Drug Interactions with Pangenotypic Direct-Acting Antivirals for Hepatitis C and Real-World Care Management in the United States: A Retrospective Observational Study
Michael P Curry, MD, Steven L Flamm, MD, Scott Milligan, PhD, Naoky Tsai, MD, Nicole Wick, AS, Zobair Younossi, MD, and Nezam H Afdhal, MD
Manuscript Published in: Journal of Managed Care + Specialty Pharmacy (JMCP)
Date of Publication: June 1, 2021
---
Real-world effectiveness of 8-week glecaprevir/pibrentasvir (G/P) for treatment naive, noncirrhotic patients with HCV infection in the TRIO network
Michael P. Curry, Jens Kort, Steve Marx, John Strezewski, Nicole Wick, Steven L. Flamm, Bruce Bacon, and Naoky Tsai
Manuscript Published in: GastroHep Wiley
Date of Publication: November 23, 2019
---
Drug-Drug Interactions (DDIs) with Pangenotypic Direct-Acting Antivirals (DAAs) in Patients with Hepatitis C: Understanding the Populations at Risk and Real-World Care Management
Dr. Michael P. Curry, Prof. Naoky C Tsai, Dr. Bruce R Bacon, Dr. Steven L Flamm, Prof. Zobair M Younossi, MD, MPH, FAASLD, Dr. Scott Milligan, Mrs. Nicole Wick, and Nezam H Afdhal
Poster Presented at: American Association for the Study of Liver Disease (AASLD) – The Liver Meeting 2019
Conference dates: November 8, 2019 - November 12, 2019
---
Pangenotypic Therapies Glecaprevir-Pibrentasvir (GLE-PIB) and Sofosbuvir-Velpatasvir-Voxilaprevir (SOF-VEL-VOX) After Failure with Interferon (IFN)-Free Direct-Acting Antiviral (DAA) Treatment for Hepatitis C" – Poster of Distinction Award
Steven L Flamm, Naoky C Tsai, Bruce R Bacon, Michael P. Curry, Scott Milligan, Nicole Wick, Zobair M Younossi, and Nezam H Afdhal
Poster Presented at: American Association for the Study of Liver Disease (AASLD) – The Liver Meeting 2019
Conference dates: November 8, 2019 - November 12, 2019
---
Untreated HCV in HIV/HCV-Coinfected US Population Despite an Abundance of Curative Therapies
R. Elion, K. Althoff, J. Eron, J. Gillman, R. Haubrich, G. Huhn, S. Milligan, A. Mills, K. Mounzer, G. Moyle, J. Radtchenko, S. Santiago, P. Sax, and D. Jayaweera
The 17th European AIDS Clinical Society; 2019 Nov 6-9: PE19
Poster Presented at: European AIDS Clinical Society (EACS)
Conference dates: November 6, 2019 - November 9, 2019
---
Real-World Effectiveness and Safety of Glecaprevir/Pibrentasvir in Adults With Chronic Hepatitis C Virus Infection: A Meta-Analysis
Markus Cornberg, Francesco Negro, Pietro Lampertico, Juan Turnes, Michael P Curry, Ashley Brown, Heiner Wedemeyer, Jose A. Carrion, Nicole Wick, Andreas Pangerl, Eric Crown, Lois Larsen, Yao Yu, and Marcello Persico
Poster Presented at: American College of Gastroenterology
Conference dates: October 25, 2019 - October 30, 2019
---
Changing Demographics Among Populations Prescribed HCV Treatment, 2013-2017
Naoky Tsai, MD, Bruce Bacon, MD, Michael Curry, MD, Steven L. Flamm, MD, Scott Milligan, PhD, Nicole Wick, AS, Zobair Younossi, MD, and Nexam Afhdal, MD
Manuscript Published in: American Journal of Managed Care (AJMC)
Date of Publication: July 12, 2019
---
Global Real World Evidence of Sofosbuvir/Velpatasvir as Simple, Effective Regimen for the Treatment of Chronic Hepatitis C: Integrated Analysis of 12 Clinical Practice Cohorts
Dr. Alnoor Ramji, Dr. Alessandra Mangia, Dr. Scott Milligan, Prof. Mandana Khalili, Prof. Stefano Fagiuoli, Dr. Stephen D. Shafran, Prof. Fabrice Carrat, Prof. Denis Ouzan, Prof. George Papatheodoridis, Dr. Sergio M. Borgia, Prof. Heiner Wedemeyer, Valeria Piazzolla, Francisco Perez, Ms. Nicole Wick, Dr. Dawn Fishbein, Prof. Pietro Lampertico, Dr. Karen Doucette, Dr. Michael Mertens, Dr. Kim Vanstraelen, Dr. A. Anna Cumaraswamy, and Dr. Juan Turnes
Oral Presented at: Canadian Liver Meeting
Conference dates: May 24, 2019 - May 26, 2019
---
Access to HCV Cure Under Medicaid Programs in the United States
Zobair Younossi, Bruce Bacon, Michael Curry, Steven L Flamm, Scott Milligan, Janna Radtchenko, Naoky Tsai and Nezam Afdhal
Poster Presented at: International Society for Pharmacoeconomics and Outcomes Research (ISPOR)
Conference dates: May 18, 2019 - May 22, 2019
---
Real-World Evaluation of NASH in US Clinical Practice: Underutilization of Liver Biopsy and Liver Imaging
Michelle Lai, Scott Milligan, Nicole Wick, Zobair Younossi, and Nezam Afdhal
Oral Presented at: Digestive Disease Week (DDW)
Conference dates: April 10, 2019 - April 14, 2019
---
Real-World Evaluation of NASH in US Clinical Practice: Underutilization of Liver Biopsy and Liver Imaging
Michelle Lai, Scott Milligan, Nicole Wick, Zobair Younossi, and Nezam Afdhal
Poster Presented at: The European Association for the Study of the Liver (EASL)
Conference dates: April 10, 2019 - April 14, 2019
---
Access to Direct Acting Antiviral Agents in HIV/HCV Co-Infected Population in the US
Dushyantha Jayaweera, Keri Althoff, Joseph Eron, Gregory Huhn, Janna Radtchenko, Scott Milligan, Anthony Mills, Graeme Moyle, Steven Santiago, Paul Sax, Jason Gillman, Karam Mounzer, and Rick Elion
The 54th Annual Meeting of the European Association for the Study of the Liver; 2019 Apr 10-14; Vienna, Austria
Poster Presented at: The European Association for the Study of the Liver (EASL)
Conference dates: April 10, 2019 - April 14, 2019
---
Clinical Practice Experience with Pangenotypic Therapies Glecaprevir-Pibrentasvir and Sofosbuvir-Velpatasvir; Data from the TRIO Network
Michael Curry, Bruce Bacon, Steven Flamm, Nicole Wick, Scott Milligan, Naoky Tsai, Zobair Younossi, and Nezam Afdhal
Poster Presented at: The European Association for the Study of the Liver (EASL)
Conference dates: April 10, 2019 - April 14, 2019
---
Effectiveness of the Salvage Therapy Sofosbuvir/Velpatasvir/Voxilaprevir (SOF/VEL/VOX) in Chronic Hepatitis C; Clinical Practice Experience from the Trio Network
Bruce Bacon, Michael Curry, Steven L Flamm, Scott Milligan, Naoky Tsai, Nicole Wick, Zobair Younossi, and Nezam Afdhal
Poster Presented at: The European Association for the Study of the Liver (EASL)
Conference dates: April 10, 2019 - April 14, 2019
---
Change in Demographics of Direct-Acting Antiviral (DAA)-Prescribed HCV Patients from 2013 to 2018: Data from 19,994 Patients in the TRIO Network
Naoky Tsai, Bruce Bacon, Michael Curry, Steven L. Flamm, Scott Milligan, Nicole Wick, Zobair Younossi, and Nezam Afdhal
Poster Presented at: The American Association for the Study of Liver Diseases (AASLD)
Conference dates: November 9, 2018 - November 13, 2018
---
Effectiveness of 8-week Glecaprevir/Pibrentasvir (G/P) for Treatment Naïve, Non-Cirrhotic Patients with HCV Infection in the TRIO Health Network
Steven L. Flamm, Jens Kort, Steve Marx, John Strezewski, Bruce Bacon, Michael P. Curry, Naoky Tsai, Nicole Wick, Zobair Younossi and Nezam Afdhal
Poster Presented at: The American Association for the Study of Liver Diseases (AASLD)
Conference dates: November 9, 2018 - November 13, 2018
---
Preferences and Outcomes in Clinical Practice with Glecaprevir/Pibrentasvir (GLE-PIB), Ledipasvir/Sofosbuvir (LDV-SOF), and Sofosbuvir/Velpatasvir (SOF-VEL): Data from the TRIO Network
Michael Curry, Bruce Bacon, Steven L. Flamm, Michael Marks, Scott Milligan, Naoky Tsai, Zobair Younossi, and Nezam Afdhal
Poster Presented at: The American Association for the Study of Liver Diseases (AASLD)
Conference dates: November 9, 2018 - November 13, 2018
---
Sofosbuvir/Velpatasvir/Voxilaprevir (SOF/VEL/VOX) in Care of Chronic Hepatitis C Patients: Clinical Practice Experience from the TRIO Network
Bruce Bacon, Michael Curry, Steven L. Flamm, Scott Milligan, Naoky Tsai, Nicole Wick, Zobair Younossi, and Nezam Afdhal
Poster Presented at: The American Association for the Study of Liver Diseases (AASLD)
Conference dates: November 9, 2018 - November 13, 2018
---
Disparities in Accessing HCV Care Under Medicaid Programs Across the US: Experience from the TRIO Network
Zobair Younossi, Bruce Bacon, Michael Curry, Steven L. Flamm, Scott Milligan, Nicole Wick, Naoky Tsai, and Nezam Afdhal
Oral Presented at: The American Association for the Study of Liver Diseases (AASLD)
Conference dates: November 9, 2018 - November 13, 2018
---
The Impact of Individual Patient Data in a Network Meta-Analysis: An Investigation into Parameter Estimation and Model Selection
Joy Leahy, Aisling O'Leary, NEzam Afdhal, Emma Gray, Scott Milligan, Malte H. Wehmeyer, and Cathal Walsh
Manuscript Published in: Research Synthesis Methods
Date of Publication: June 20, 2018
---
Realized Durations of Direct-Acting Antivirals (DAAs) in Care of HCV in US Clinical Practice: Data from the Trio Network
Michael Curry, Bruce Bacon, Steven Flamm, Scott Milligan, Naoky Tsai, Zobair Younossi, and Nezam Afdhal
Poster Presented at: Global Hepatitis Summit (GHS)
Conference dates: June 14, 2018 - June 17, 2018
---
Effectiveness of 8 vs. 12 Week Ledipasvir/ Sofosbuvir (LDV/SOF) in Black, Treatment Naive Patients with Non-Cirrhotic, Genotype 1 HCV and Baseline Viral Load: Analyses of Real-World Data from the Trio Network
Michael Curry, Bruce Bacon, Steven Flamm, Angela Landen, Scott Milligan, Naoky Tsai, Zobair Younossi, Nezam Afdhal
Poster Presented at: Digestive Disease Week (DDW)
Conference dates: June 2, 2018 - June 5, 2018
---
Access to and Utilization of Sofosbuvir/Velpatasvir/Voxilaprevir in Care of Chronic Hepatitis C Patients: Data from the TRIO Network
Bruce Bacon, Michael Curry, Steven Flamm, John Straub, Naoky Tsai, Nicole Wick, Zobair Younossi, and Nezam Afdhal
Poster Presented at: Digestive Disease Week (DDW)
Conference dates: June 2, 2018 - June 5, 2018
---
Untreated HCV in HIV/HCV Co-Infection: Data from the TRIO Network
Dushwantha Jayaweera, Joseph Eron, Gregory Huhn, Scott Milligan, Anthony Mills, Graeme Moyle, Steven Santiago, Paul Sax, Gene Voskuhl, David Wyles, Karam Mounzer, and Rick Elion
DOI: 10.1016/S0016-5085(18)33931-3
Poster Presented at: Digestive Disease Week (DDW)
Conference dates: June 2, 2018 - June 5, 2018
---
Utilization and Outcomes of Elbasvir/Grazoprevir in Genotype 1B Chronic Hepatitis C: Updated Retrospective Data Analyses from the TRIO Network
Naoky Tsai, Bruce Bacon, Michael Curry, Steven Flamm, Scott Milligan, Chizoba Nwankwo, Nicole Wick, Zobair Younossi, and Nezam Afdhal
Poster Presented at: Digestive Disease Week (DDW)
Conference dates: June 2, 2018 - June 5, 2018
---
Effectiveness of Elbasvir/Grazoprevir in Patients with Cirrhotic Genotype 1 or 4 Chronic Hepatitis C: Updated Retrospective Data Analyses from the TRIO Network
Michael Curry, Steven Flamm, Bruce Bacon, Scott Milligan, Chizoba Nwankwo, Naoky Tsai, Nicole Wick, Zobair Younossi, and Nezam Afdhal
Poster Presented at: Digestive Disease Week (DDW)
Conference dates: June 2, 2018 - June 5, 2018
---
Impact of HCV Viral Load on Elbasvir/ Grazoprevir Effectiveness in Chronic Hepatitis C: Updated Retrospective Data Analyses from the TRIO Network
Steven Flamm, Bruce Bacon, Michael Curry, Scott Milligan, Chizoba Nwankwo, Naoky Tsai, Nicole Wick, Zobair Younossi, Nezam Afdhal
Poster Presented at: Digestive Disease Week (DDW)
Conference dates: June 2, 2018 - June 5, 2018
---
Behavioral and Clinical Factors and Direct Acting Antiviral Effectiveness in HCV/HIV Co-Infection: Clinical Experience from the TRIO Network
Rick Elion, Gregory Huhn, Dushyantha Jayaweera, Keri Althoff, Joseph Eron, Scott Milligan, Anthony Mills, Graeme Moyle, Steven Santiago, Paul Sax, Gene Voskuhl, David Wyles, and Karam Mounzer
DOI: 10.1016/S0016-5085(18)33670-9
Oral Presented at: Digestive Disease Week (DDW)
Conference dates: June 2, 2018 - June 5, 2018
---
Real-World Use of Elbasvir-Grazoprevir in Patients with Chronic Hepatitis C: Retrospective Analyses from the TRIO Network
S.L. Flamm, B. Bacon, M. P. Curry, S. Milligan, C. U. Nwankwo, N. Tsai, Z. Younossi, and N. Afdhal
Manuscript Published in: Alimentary Pharmacology & Therapeutics (AP&T)
Date of Publication: April 17, 2018
---
Effectiveness of 8 vs. 12 Week Ledipasvir/ Sofosbuvir (LDV/SOF) in Black, Treatment Naive Patients with Non-Cirrhotic, Genotype 1 HCV and Baseline Viral Load: Analyses of Real-World Data from the Trio Network
Michael Curry, Bruce Bacon, Steven Flamm, Angela Landen, Scott Milligan, Naoky Tsai, Zobair Younossi, and Nezam Afdhal
Poster Presented at: The European Association for the Study of the Liver (EASL)
Conference dates: April 11, 2018 - April 15, 2018
---
Behavioral and Clinical Factors and Direct Acting Antiviral Effectiveness in HCV/HIV Co-Infection: Clinical Experience from the TRIO Network
Gregory Huhn, Dushyantha Jayaweera, Keri Althoff, Joseph Eron, Scott Milligan, Anthony Mills, Graeme Moyle, Steven Santiago, Paul Sax, Gene Voskuhl, David Wyles, Karam Mounzer, and Rick Elion
DOI: 10.1016/S0168-8278(18)30723-2
Poster Presented at: The European Association for the Study of the Liver (EASL)
Conference dates: April 11, 2018 - April 15, 2018
---
Untreated HCV in HIV/HCV Co-Infection: Data from the TRIO Network
Dushwantha Jayaweera, Joseph Eron, Gregory Huhn, Scott Milligan, Anthony Mills, Graeme Moyle, Steven Santiago, Paul Sax, Gene Voskuhl, David Wyles, Karam Mounzer, and Rick Elion
DOI: 10.1016/S0168-8278(18)30735-9
Poster Presented at: The European Association for the Study of the Liver (EASL)
Conference dates: April 11, 2018 - April 15, 2018
---
Utilization and Outcomes of Elbasvir/Grazoprevir in Genotype 1B Chronic Hepatitis C: Updated Retrospective Data Analyses from the TRIO Network
Naoky Tsai, Bruce Bacon, Michael Curry, Steven Flamm, Scott Milligan, Chizoba Nwankwo, Nicole Wick, Zobair Younossi, and Nezam Afdhal
Poster Presented at: The European Association for the Study of the Liver (EASL)
Conference dates: April 11, 2018 - April 15, 2018
---
Effectiveness of Elbasvir/Grazoprevir in Patients with Cirrhotic Genotype 1 or 4 Chronic Hepatitis C: Updated Retrospective Data Analyses from the TRIO Network
Michael Curry, Steven Flamm, Bruce Bacon, Scott Milligan, Chizoba Nwankwo, Naoky Tsai, Nicole Wick, Zobair Younossi, and Nezam Afdhal
Poster Presented at: The European Association for the Study of the Liver (EASL)
Conference dates: April 11, 2018 - April 15, 2018
---
Impact of HCV Viral Load on Elbasvir/ Grazoprevir Effectiveness in Chronic Hepatitis C: Updated Retrospective Data Analyses from the TRIO Network
Steven Flamm, Bruce Bacon, Michael Curry, Scott Milligan, Chizoba Nwankwo, Naoky Tsai, Nicole Wick, Zobair Younossi, and Nezam Afdhal
Poster Presented at: The European Association for the Study of the Liver (EASL)
Conference dates: April 11, 2018 - April 15, 2018
---
Real-World Patterns of Therapy Utilization and Outcomes in 8,049 HCV Patients: Data from the TRIO Network
Steven L. Flamm, Bruce Bacon, Michael Curry, Douglas T. Dieterich, Kris Kowdley, Scott Milligan, Naoky Tsai, Zobair Younossi, and Nezam Afdhal
Poster Presented at: The American Association for the Study of Liver Diseases (AASLD)
Conference dates: October 20, 2017 - October 24, 2017
---
Drivers of Therapy Choice in Genotype 1 HCV: Analyses of Real-World Data from the TRIO Network
M. Curry, B. Bacon, D. Dieterich, S.L. Flamm, K. Kowdley, S. Milligan, N. Tsai, Z. Younossi, and N. Afdhal
Poster Presented at: The American Association for the Study of Liver Diseases (AASLD)
Conference dates: October 20, 2017 - October 24, 2017
---
HCV Treatment Failure in the Era of Direct-Acting Antivirals (DAAs): Analyses of Real-World Data from the TRIO Network
Bruce Bacon, Steven L. Flamm, Michael Curry, Douglas T. Dieterich, Kris Kowdley, Scott Milligan, Naoky Tsai, Zobair Younossi, and Nezam Afdhal
Poster Presented at: The American Association for the Study of Liver Diseases (AASLD)
Conference dates: October 20, 2017 - October 24, 2017
---
Cure Denied and Cure Delayed in Chronic Hepatitis C; Monitoring Non-Start Rates and Increased Time to Start Using Real-World Data from the TRIO Network
Zobair Younossi, Bruce Bacon, Michael Curry, Douglas T. Dieterich, Steven L. Flamm, Kris Kowdley, Scott Milligan, Naoky Tsai, and Nezam Afdhal
Poster Presented at: The American Association for the Study of Liver Diseases (AASLD)
Conference dates: October 20, 2017 - October 24, 2017
---
Impact of Treatment Duration and Ribavirin (RBV) Addition on Real-World Effectiveness of Elbasvir/Grazoprevir (EBR-GZR) in Select Patient Subgroups with Genotype 1 (GT1) Chronic Hepatitis C (HCV): Retrospective Data Analyses from the TRIO Network
C. Nwankwo, B. Bacon, M. Curry, D. Dieterich, S.L. Flamm, K. Kowdley, S. Milligan, N. Tsai, Z. Younossi, and N. Afdhal
Poster Presented at: The American Association for the Study of Liver Diseases (AASLD)
Conference dates: October 20, 2017 - October 24, 2017
---
Utilization and Effectiveness of Elbasvir/Grazoprevir (EBR-GZR) in Treatment Naïve (TN) Genotype 1a (GT1A) Chronic Hepatitis C Virus (HCV) Patients with/without Baseline NS5A Resistance-Associated Substitutions (RASs)
C. Nwankwo, B. Bacon, M. Curry, D. Dieterich, S.L. Flamm, K. Kowdley, S. Milligan, N. Tsai, Z. Younossi, and N. Afdhal
Poster Presented at: The American Association for the Study of Liver Diseases (AASLD)
Conference dates: October 20, 2017 - October 24, 2017
---
Real-World Results in the Renaissance of HCV Care: Analyses of Treatment for 8,955 Patients from the TRIO Network
S.L. Flamm, B. Bacon, M. Curry, D. Dieterich, K. Kowdley, S. Milligan, N. Tsai, Z. Younossi, and N. Afdhal
Poster Presented at: Digestive Disease Week (DDW)
Conference dates: May 6, 2017 - May 9, 2017
---
Sofosbuvir/Velpatasvir Compared to Existing Standards of Care in GT2-6 HCV
Michael Curry, Bruce Bacon, Douglas Dieterich, Steven L. Flamm, Kris Kowdley, Scott Milligan, Naoky Tsai, Zobair Younossi, and Nezam Afdhal
Oral Presented at: Digestive Disease Week (DDW)
Conference dates: May 6, 2017 - May 9, 2017
---
Utilization of DAA Therapies Ledipasvir/Sofosbuvir and Sofosbuvir/Velpatasvir in Patients with Genotype 1 HCV: Real-World Experience from the TRIO Network
N. Tsai, B. Bacon, M. Curry, D. Dieterich, S.L. Flamm, K. Kowdley, S. Milligan, Z. Younossi, and N. Afdhal
Poster Presented at: Digestive Disease Week (DDW)
Conference dates: May 6, 2017 - May 9, 2017
---
Access to HCV Care for 31,154 Patients in the United States: Real-World Experience from the TRIO Network
Zobair Younossi, Bruce Bacon, Michael Curry, Douglas T. Dieterich, Steven L. Flamm, Kris Kowdley, Scott Milligan, Naoky Tsai, and Nezam Afdhal
Poster Presented at: Digestive Disease Week (DDW)
Conference dates: May 6, 2017 - May 9, 2017
---
Sofosbuvir/Velpatasvir Compared to Existing Standards of Care in GT2-6 HCV
Michael Curry, Bruce Bacon, Douglas Dieterich, Steven L. Flamm, Kris Kowdley, Scott Milligan, Naoky Tsai, Zobair Younossi, and Nezam Afdhal
Oral Presented at: The European Association for the Study of the Liver (EASL)
Conference dates: April 13, 2017 - April 17, 2017
---
Real-World Treatment Utilization and Results in the Renaissance of HCV Care: Analyses of Treatment for 8,955 Patients from The TRIO Network
S.L. Flamm, B. Bacon, M. Curry, D. Dieterich, K. Kowdley, S. Milligan, N. Tsai, Z. Younossi, and N. Afdhal
Oral Presented at: The European Association for the Study of the Liver (EASL)
Conference dates: April 13, 2017 - April 17, 2017
---
Utilization of DAA Therapies Ledipasvir/Sofosbuvir and Sofosbuvir/Velpatasvir in Patients with Genotype 1 HCV: Real-World Experience from the TRIO Network
N. Tsai, B. Bacon, M. Curry, D. Dieterich, S.L. Flamm, K. Kowdley, S. Milligan, Z. Younossi, and N. Afdhal
Oral Presented at: The European Association for the Study of the Liver (EASL)
Conference dates: April 13, 2017 - April 17, 2017
---
Elbasvir/Grazoprevir Effectiveness in Patients with Chronic Hepatitis C and Chronic Kidney Disease: Real-World Experience from the TRIO Network
Z. Younossi, B. Bacon, M. Curry, D. Dieterich, S.L. Flamm, K. Kowdley, S. Milligan, C. Nwankwo, N. Tsai, and N. Afdhal
Poster Presented at: The European Association for the Study of the Liver (EASL)
Conference dates: April 13, 2017 - April 17, 2017
---
Real-World Use of Elbasvir/Grazoprevir and Outcomes in Patients with Chronic Hepatitis C: Retrospective Data Analyses from the TRIO Network
B. Bacon, M. Curry, D. Dieterich, S.L. Flamm, K. Kowdley, S. Milligan, C. Nwankwo, N. Tsai, Z. Younossi, and N. Afdhal
Poster Presented at: The European Association for the Study of the Liver (EASL)
Conference dates: April 13, 2017 - April 17, 2017
---
Effect of Ethnicity on HCV Patient Outcomes and Access to Therapy in Era of All DAA Regimens: Real-World Experience from the TRIO Network
Kevin Korenblat, Bruce Bacon, Michael Curry, Douglas Dieterich, Steven L. Flamm, Kris V. Kowdley, Yoori Lee, Naoky Tsai, Zobair Younossi, and Nezam Afdhal
Poster Presented at: The American Association for the Study of Liver Diseases (AASLD)
Conference dates: November 11, 2016 - November 15, 2016
---
Real-World Effectiveness for 12 Weeks of Ledipasvir-Sofosbuvir for Genotype 1 Hepatitis C: the Trio Health Study
E. B. Tapper, B. R. Bacon, M. P. Curry, D. T. Dieterich, S. L. Flamm, L. E. Guest, K. V. Kowdley, Y. Lee, N. C. Tsai, Z. M. Younossi, and N. H. Afdhal
Manuscript Published in: Journal of Viral Hepatitis
Date of Publication: October 11, 2016
---
Evaluation of Proton Pump Inhibitor Use on Treatment Outcomes With Ledipasvir and Sofosbuvir in a Real-World Cohort Study
Elliot B. Tapper, Bruce R. Bacon, Michael P. Curry, Douglas T. Dieterich, Steven L. Flamm, Lauren E. Guest, Kris V. Kowdley, Yoori Lee, Naoky C. Tsai, Zobair M. Younossi, and Nezam H. Afdhal
Manuscript Published in: Hepatology
Date of Publication: August 17, 2016
---
Effectiveness of 8 or 12 week LDV/SOF in Treatment-Naïve Patients with Non-Cirrhotic, Genotype 1 Hepatitis C: Real-World Experience from the TRIO Network
Michael P. Curry, Bruce Bacon, Douglas Dieterich, Steven L. Flamm, Lauren Guest, Kris V. Kowdley, Yoori Lee, Naoky Tsai, and Zobair Younossi
Poster Presented at: International Society for Pharmacoeconomics and Outcomes Research (ISPOR)
Conference dates: May 21, 2016 - May 25, 2016
---
Effectiveness of 12 or 24 week LDV-SOF and 12 week LDV-SOF + RBV in Treatment-Experienced Patients with Cirrhotic, Genotype 1 Hepatitis C: Real-World Experience from the TRIO Network
Michael P. Curry, Bruce Bacon, Douglas Dieterich, Steven L. Flamm, Lauren Guest, Kris V. Kowdley, Yoori Lee, Naoky Tsai, and Zobair Younossi
Poster Presented at: International Society for Pharmacoeconomics and Outcomes Research (ISPOR)
Conference dates: May 21, 2016 - May 25, 2016
---
Ledipasvir/Sofosbuvir+/-Ribavirin in Patients Co-Infected with HCV and HIV: Real-World Heterogeneous Population from the TRIO Network
Douglas T. Dieterich, Bruce Bacon, Michael Curry, Steven L. Flamm, Lauren Guest, Kris Kowdley, Yoori Lee, Zobair Younossi, Naoky Tsai, and Nezam Afdhal
Poster Presented at: Digestive Disease Week (DDW)
Conference dates: May 21, 2016 - May 24, 2016
---
Access to Therapy in Era of DAA Regimens: Real-World Experience from the TRIO Network
Douglas T. Dieterich, Bruce Bacon, Michael Curry, Steven L. Flamm, Kris Kowdley, Yoori Lee, Zobair Younossi, Naoky Tsai, and Nezam Afdhal
Poster Presented at: Digestive Disease Week (DDW)
Conference dates: May 21, 2016 - May 24, 2016
---
Failure with All-Oral DAA Regimens: Academic and Community Treatment of a Real-World Population from the TRIO Network
Nezam Afdhal, Bruce Bacon, Michael Curry, Douglas Dieterich, Steven L. Flamm, Lauren Guest, Kris V. Kowdley, Yoori Lee, Naoky Tsai, and Zobair Younossi
Poster Presented at: Digestive Disease Week (DDW)
Conference dates: May 21, 2016 - May 24, 2016
---
Ledipasvir/Sofosbuvir +/- Ribavirin in HCV Post-Transplant Patients: Real-World Heterogeneous Population from the TRIO Network
Steven L. Flamm, Bruce Bacon, Michael Curry, Douglas T. Dieterich, Lauren Guest, Kris Kowdley, Yoori Lee, Naoky Tsai, Zobair Younossi, and Nezam Afdhal
Poster Presented at: International Liver Transplantation Society (ILTS)
Conference dates: May 4, 2016 - May 7, 2016
---
Ledipasvir/Sofosbuvir+/-Ribavirin in Patients Co-Infected with HCV and HIV: Real-World Heterogeneous Population from the TRIO Network
Douglas T. Dieterich, Bruce Bacon, Michael Curry, Steven L. Flamm, Lauren Guest, Kris Kowdley, Yoori Lee, Zobair Younossi, Naoky Tsai, and Nezam Afdhal
Poster Presented at: The European Association for the Study of the Liver (EASL)
Conference dates: April 13, 2016 - April 17, 2016
---
Ledipasvir/Sofosbuvir+/-Ribavirin in HCV Post-Transplant Patients: Real-world Heterogeneous Population from the TRIO Network
Steven L. Flamm, Bruce Bacon, Michael Curry, Douglas T. Dieterich, Lauren Guest, Kris Kowdley, Yoori Lee, Naoky Tsai, Zobair Younossi, and Nezam Afdhal
Poster Presented at: The European Association for the Study of the Liver (EASL)
Conference dates: April 13, 2016 - April 17, 2016
---
No Effect of Proton Pump Inhibitor (PPI) Use on SVR with Ledipasvir/ Sofosbuvir (LDV/SOF): Real-World Data from 2,034 Genotype 1 Patients in the TRIO Network
Nezam Afdhal, Bruce Bacon, Michael Curry, Douglas Dieterich, Steven L. Flamm, Lauren Guest, Kris V. Kowdley, Yoori Lee, Naoky Tsai, and Zobair Younossi
Poster Presented at: The European Association for the Study of the Liver (EASL)
Conference dates: April 13, 2016 - April 17, 2016
---
Evaluation of Efficacy of Ledipasvir/Sofosbuvir for 12 weeks in a Real Life Population of Genotype 1a and 1b HCV Patients: Data from the TRIO Network
Nezam Afdhal, Bruce Bacon, Michael Curry, Douglas Dieterich, Steven L. Flamm, Lauren Guest, Kris V. Kowdley, Yoori Lee, Naoky Tsai, and Zobair Younossi
Poster Presented at: Asian Pacific Association for the Study of the Liver (APASL)
Conference dates: February 20, 2016 - February 24, 2016
---
Disparate Access to Treatment Regimens in Chronic Hepatitis C Patients: Data from The TRIO Network
Z. M. Younossi, B. R. Bacon, D. T. Dieterich, S. L. Flamm, K. Kowdley, S. Milligan, N. Tsai, and A. Nezam
Manuscript Published in: Journal of Viral Hepatitis
Date of Publication: February 3, 2016
---
Effectiveness of 8 or 12 week LDV-SOF in Treatment-Naïve Patients with Non-Cirrhotic, Genotype 1 Hepatitis C: Real-World Experience from the TRIO Network
Michael P. Curry, Bruce Bacon, Douglas Dieterich, Steven L. Flamm, Lauren Guest, Kris V. Kowdley, Yoori Lee, Naoky Tsai, and Zobair Younossi
Poster Presented at: The American Association for the Study of Liver Diseases (AASLD)
Conference dates: November 13, 2015 - November 17, 2015
---
Effectiveness of 12 or 24 Week LDV-SOF and 12 week LDV-SOF + RBV in Treatment-Experienced Patients with Cirrhotic, Genotype 1 Hepatitis C: Real-World Experience from the TRIO Network
Michael P. Curry, Bruce Bacon, Douglas Dieterich, Steven L. Flamm, Lauren Guest, Kris V. Kowdley, Yoori Lee, Naoky Tsai, and Zobair Younossi
Poster Presented at: The American Association for the Study of Liver Diseases (AASLD)
Conference dates: November 13, 2015 - November 17, 2015
---
Failure with All-Oral DAA Regimens: Academic and Community Treatment of a Real-World Population from the TRIO Network
Nezam Afdhal, Bruce Bacon, Douglas Dieterich, Steven L. Flamm, Lauren Guest, Kris V. Kowdley, Yoori Lee, Naoky Tsai, and Zobair Younossi
Poster Presented at: The American Association for the Study of Liver Diseases (AASLD)
Conference dates: November 13, 2015 - November 17, 2015
---
Efficacy Evaluation of 24-week SOF + RBV in a Heterogeneous, Real-World Population of Genotype 3 HCV; Data from the TRIO Network
Kris Kowdley, Bruce Bacon, Douglas T. Dieterich, Eric Lawitz, Scott Milligan, Naoky Tsai, Zobair Younossi, and Steven L. Flamm
Poster Presented at: Digestive Disease Week (DDW)
Conference dates: May 16, 2015 - May 19, 2015
---
Evaluation of Access to Care in Patients Prescribed Sofosbuvir-Containing Regimens; Data from the TRIO Network
Zobair Younossi, Bruce Bacon, Douglas Dieterich, Steven L. Flamm, Kris Kowdley, Eric Lawitz, Scott Milligan, and Naoky Tsai
Poster Presented at: Digestive Disease Week (DDW)
Conference dates: May 16, 2015 - May 19, 2015
---
Final Evaluation of HCV Patients Treated with 12-week Regimens Containing Sofosbuvir +/- Simeprevir in the TRIO Network: Academic and Community Treatment of a Real-World, Heterogeneous Population
Douglas Dieterich, Bruce Bacon, Steven L. Flamm, Kris Kowdley, Scott Milligan, Naoky Tsai, Zobair Younossi, and Eric Lawitz
Poster Presented at: Digestive Disease Week (DDW)
Conference dates: May 16, 2015 - May 19, 2015
---
Comparison of Sofosbuvir +/- Simeprevir in Heterogeneous, Real-World Populations of HCV Patients Over 70 Years; Data from the TRIO Network
Naoky Tsai, Bruce Bacon, Steven L. Flamm, Kris Kowdley, Eric Lawitz, Scott Milligan, Zobair Younossi, and Douglas T. Dieterich
Poster Presented at: Digestive Disease Week (DDW)
Conference dates: May 16, 2015 - May 19, 2015
---
Final Evaluation of HCV Patients Treated With 12-week Regimens Containing Sofosbuvir +/- Simeprevir in the TRIO Network: Academic and Community Treatment of a Real-World, Heterogeneous Population
Douglas Dieterich, Bruce Bacon, Steven Flamm, Kris Kowdley, Soctt Milligan, Naoky Tsai, Zobair Younossi, and Eric Lawitz
Poster Presented at: The European Association for the Study of the Liver (EASL)
Conference dates: April 22, 2015 - April 26, 2015
---
Comparison of Sofosbuvir +/- Simeprevir in Heterogeneous, Real-World Populations of HCV Patients over 70 years; Data from the TRIO Network
Naoky Tsai, Bruce Bacon, Steven L. Flamm, Kris Kowdley, Eric Lawitz, Scott Milligan, Zobair Younossi, and Douglas T. Dieterich
Poster Presented at: The European Association for the Study of the Liver (EASL)
Conference dates: April 22, 2015 - April 26, 2015
---
Efficacy Evaluation of 24-Week SOF + RBV in a Heterogeneous, Real-World Population of Genotype 3 HCV; Data from the TRIO Network
Kris Kowdley, Bruce Bacon, Douglas T. Dieterich, Eric Lawitz, Scott Milligan, Naoky Tsai, Zobair Younossi, and Steven L. Flamm
Poster Presented at: The European Association for the Study of the Liver (EASL)
Conference dates: April 22, 2015 - April 26, 2015
---
Evaluation of Sofosbuvir and Olysio-Based Regimens in the Trio Network: Academic and Community Treatment of a Real-World, Heterogeneous Population
D Dieterich, B Bacon, S Flamm, K Kowdley, S Milligan, N Tsai, Z Younossi, and E Lawitz
Oral Presented at: The American Association for the Study of Liver Diseases (AASLD)
Conference dates: November 7, 2014 - November 11, 2014
---
Efficacy of Sofosbuvir and Simeprevir-based Regimens for HCV Treatment-Experienced GT1 Patients in a Real-Life Setting; Data from the TRIO Network
Bruce Bacon, Douglas Dieterich, Steven Flamm, Kris Kowdley, Eric Lawitz, Scott Milligan, Zobair Younossi, and Naoky Tsai
Poster Presented at: The American Association for the Study of Liver Diseases (AASLD)
Conference dates: November 7, 2014 - November 11, 2014
---
Evaluation of Efficacy of Sofosbuvir and Simeprevir-based Regimens in a Real-Life Population of HCV Patients with Cirrhosis; Data from the TRIO Network
Steven Flamm, Bruce Bacon, Douglas Dieterich, Kris Kowdley, Eric Lawitz, Scott Milligan, Naoky Tsai, and Zobair Younossi
Poster Presented at: The American Association for the Study of Liver Diseases (AASLD)
Conference dates: November 7, 2014 - November 11, 2014
---